NetVanta 1531P
NetVanta 1531P is a managed, 12-port PoE, Layer 3 Lite, Gigabit Ethernet switch designed as an access layer switch for Small Businesses. This scalable, full-featured business-class switch is small businesses for Voice over IP (VoIP) applications needing PoE to power IP Phones, as well as Gigabit-to- the-desktop deployments. Experience the ease of management with an easy-to-use Web-based Graphical User Interface (GUI) and familiar Command Line Interface (CLI).
Features and Benefits:
12-port multi-layer Gigabit Ethernet switch
Ten 10/100/1000Base-T Ethernet ports
802.3af (PoE), 802.3at (PoE+) and Legacy PoE
65W total power budget
Non-blocking, up to 24 Gbps switching capacity
Line rate Layer 2 and Layer 3 Lite capabilities
VoIP Setup Wizard for faster VoIP deployments
Desktop security audit
DHCP network forensics
802.1Q VLANs, Private VLANs and VLAN assignment via 802.1x
Advanced QoS with support for 802.1p and DiffServ prioritization with four queues per egress port
Automate actions with Port Scheduler and TCL scripting
VoIP ready with LLDP/ LLDP-MED and voice VLANS
Business-class security with RADIUS, TACACS+, 802.1x and port security
Wi-Fi access controller for centralized management of NetVanta Wireless Access Points (WAPs)
Cable and SFP diagnostics provides easy to use troubleshooting tools for copper and fiber cable
Familiar CLI and Web GUI
Next business day advance replacement
Limited lifetime warranty
Optimized for iSCSI Storage Area Networks (SANs) deployments
---
NetVanta 3448: SMB Network in a Box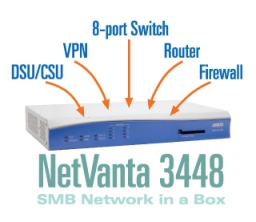 The NetVanta 3448 addresses the need to simplify. The NetVanta 3448 is like an SMB Network in a Box with an integrated router that supports up to 2 T1s, 8-port Ethernet switch, stateful inspection firewall, DSU/CSU, and optional PoE and VPN. The NetVanta 3448 delivers the high-packet throughput required for IP Telephony, corporate connectivity, and Internet access, plus the ability to power any PoE device.
This all-in-one platform is VoIP-ready and provides wire-speed throughput, even with advanced services like QoS, NAT, firewall, and VPN enabled. In The Tolly Group Report, the NetVanta 3400 Series outperformed both Cisco and Nortel in measurable performance tests!
The NetVanta 3448 also has an option to add 802.3af-compliant Power over Ethernet (a full 15.4 watts of power per port) to its 8-port Ethernet switch. This provides the ability to power any PoE device, including SIP phones, wireless access points, or security cameras.
---
Bluesocket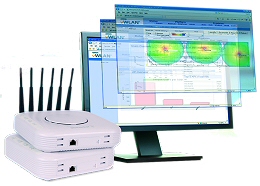 ADTRAN's Bluesocket product family virtualizes the control and management of the wireless network. Remote sites and users are managed from a single location that can be private or public cloud based.
This revolutionary product family provides a flexible solution that can operate in multiple deployments from a branch office to a large campus environment while offering a lower cost of ownership and optimal performance. Remote offices deployments are demanding more from the wireless LAN and the Bluesocket solution responds by integrating flexibility into the security and data forwarding modules.
---
ProCloud Wi-Fi
ProCloud Wi-Fi offers a "No Worry" fully managed, business-class Wi-Fi service built on Bluesocket vWLAN. ProCloud Wi-Fi services are flexible and scalable, ensure a secure, always-on wireless network, provide proactive network monitoring, moves/adds/changes, and monthly management reports. ProCloud Wi-Fi can be included with ProStart deployment services to provide a full turn-key service to reduce IT support burdens.
ProCloud Wi-Fi Key Features
Now with ProCare Help Desk
Fully managed, business-class Wi-Fi service
Guaranteed 99.99% uptime
Proactive 7x24 monitoring, technical issue resolution, hardware replacement, and moves/adds/changes
Monthly management reports on network health and usage
Freedom to migrate to in-house management anytime, to ensure business continuity
What can ProCloud Wi-Fi do for you?
Management
Proactive alerts of Wi-Fi network issues, delivered 7x24
Proactive technical issue resolution for service affecting emergencies 7x24
Priority access into ADTRAN Technical Support at either 1 hour or 30 minute response time
Monthly management reports
Move/add/changes
Infrastructure
"High-availability" redundant infrastructure to provide 99.99% guaranteed uptime
Hardware and Software
Ongoing maintenance and hardware replacement (NBD or 4 hour)
Software upgrades scheduled and performed by ADTRAN
---