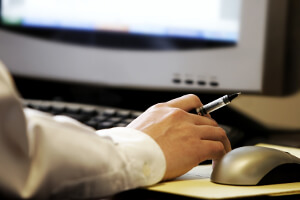 ISC offers a wide range of product and services options. Whether it's combining voice and data over common infrastructure or leveraging the power of the computer desktop, Interconnect Systems knows the advantages and how they can help businesses become better...
PBX and Key Systems
ISC has carefully put together a superior product mix that covers the simplest applications all the way up to the most challenging issues. Our solutions from Mitel, Toshiba, ESI and Captaris are also industry leaders in product migration and backwards compatibility which means these products are the best at protecting your investment when it comes to growing, enhancing and upgrading your system. Our products are chosen for their ability to cover the widest range of business applications and meet our most stringent expectations for reliability. It has to solve communications problems and be available all the time or it's not an Interconnect Systems solution!
Voice-mail and "Unified Messaging"
For truly superior message handling, you can now combine voice, e-mail and fax into one common interface such as Microsoft Exchange or Lotus Notes. This "Unified Messaging" technology is the single greatest enhancement to come along in years to help improve and increase company and employee productivity. In addition these system employ superior speech recognition technology giving you voice command over most of their operation. A huge boon in the mobile environment of today!
If it's just plain voicemail you want all of our systems now have it as an embedded application making it very inexpensive and reliable to deploy. There's really no reason to not use this proven communications tool in your business. Statistically we still only answer 25% of our calls…what happens to the other 75%?
Automatic Call Distribution
Voice, voicemail, web chat and email traffic are increasing at record pace every year. Many companies are faced with the issue of having more than they think they can handle. This is where the expertise of your telecom vendor can shine. With today's Multi-media Distribution systems, companies can now handle routine high traffic all the way up to a blended call center that funnels emails, web chat and even Voicemail messages to the properly skilled employee for coverage. Historical data can then be collected and collated for use in forecasting and scheduling the resources needed to meet service levels and keep answer times to a minimum. This data can also help identify call handling bottlenecks so they can be addressed and corrected before they cause problems for customers. You can even provide intelligent messaging to callers while they wait so they have choice and control in order to make the experience as pleasant as possible until they are handled. Real solutions for real communication problems!
e-Document Delivery Solutions
Interconnect systems offers document imaging solutions from market leader RightFax, with 35% market share, as well as small business solutions from Multi-tech. We also enhance these products with software applications from eCopy. By combining fax, e-mail and web technologies, we can provide easy-to-use, easy-to-manage e-document delivery solutions that gives your company the freedom and control to tailor a document-delivery environment to the needs of their business. All of our document imaging solutions offer a broad, scalable product that integrates with virtually all business applications including e-mail, desktop, CRM, ERP, document management, imaging, archival, call center, copier/scanner systems, as well as host, legacy and mainframe applications.
Voice and Data Carrier Representation
In addition to the voice and data systems, ISC provides our customers a host of telecom services such as point to point data circuits for wide area data needs, Primary Rate ISDN for superior voice services, and a multitude of Internet connectivity options to serve any need. This diversified combination of services is made possible because of our partnerships with the two leading service providers in our service area. Interconnect Systems acts as your partner and representative in the relationship with these providers and brings a level of expertise that ensures accuracy and expediency in the difficult services deployment industry.